Indian Head Massage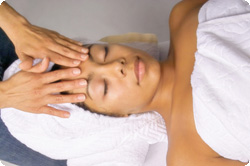 I provide Indian Head Massage to clients in Counties Longford, Cavan, Leitrim and Westmeath.
Indian Head Massage is based on the Ayurvedic System of healing and has been practised in India over thousands of years. It releases stress built up in the tissues, muscles and joints of the head face and neck and shoulders. The treatment can be done seated in chair or lying down.
Indian head massage not only works the scalp but also the face, shoulders and upper back and arms.
These are areas where we tend to harbour a great deal of tension, arising from stress, poor posture and repetitive use.
A blend of oils is used to suit the individual.
Benefits of Indian Head Massage
Better concentration & Clarity
Eases mental fatigue
Sinus
Headaches
Muscle tension
Relaxation