Infant/Baby Massage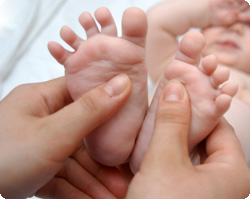 I provide Infant/Baby Massage to clients in Counties Longford, Cavan, Leitrim and Westmeath.
Infant/baby massage uses a combination of Indian and Swedish massage and Reflexology techniques.
Infant/baby massage is an ancient tradition in many cultures, which is being rediscovered in the West. Clinical evidence shows that loving, touching, nurturing contact between caregiver and infant has an important impact on their development
Benefits of Infant/Baby Massage
Infant massage can:
Improve communication between parents and baby
Help to calm babies and help them sleep better
Help babies in the development of their bodies
Enhance parents ability to understand babies needs
Aid digestion and help to relieve colic and constipation
Help develop muscle tone, co-ordination and suppleness
Strenghten the immune system
Regulate breathing and relieve nasal congestion
Improve skin texture
Infant/Baby Massage Instruction
The Infant/Baby Massage Instructors role is to facilitate and help enhance the loving relationship between the infant and its caregiver. Massage is an ideal medium because it naturally encompasses all the elements of the bonding process.
Infant massage is something that every parent or caregiver can learn and practice providing benefits to both baby and parents.
Private instruction available.