Reflexology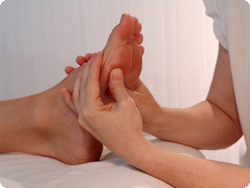 I provide Reflexology treatment to clients in Counties Longford, Cavan, Leitrim and Westmeath.
Reflexology is a specific pressure treatment applied to the feet or hands, where all the internal body structure are mapped or mirrored in miniature. This therapy is based on the long established principle that there are energy zones which run throughout the body and reflex areas in the hands and feet that correspond to all major organs, glands and body parts. The body is designed to heal itself and has this full potential within.
Reflexology treats the whole body making it a truly holistic treatment working to bring the body into balance. It is a result of this balancing effect that the various complaints may be eased.

What is Reflexology Suitable For?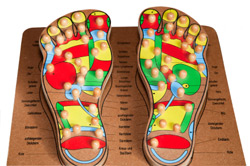 Reflexology is used for a wide range of conditions including:
back pain
migraine
digestive problems
stress
sinus
IBS
Various maternity issues
Hormone Balancing
Depression
and many more complaints.
Reflexology and Cancer Patients
Pauline is qualified to work with cancer patients and has completed training in the Arc Cancer Support Centre in Dublin www.arccancersupport.ie. Following medical consent this training will allow her to work with cancer patients. In the past 10 years or so Reflexology has become one of the most popular complementary therapies used by those suffering from cancer. Reflexology can have a positive effect on their lifestyle, helping with the side effects of treatments, mood and energy levels. It enhances feelings of relaxation and helps improve sleep.
Fertility Reflexology
Reflexology can be used as a complementary tool to boost fertility in both men and women. The endocrine system plays a key role when trying to conceive. Reflexology can help to restore balance and harmony and relaxation during this often stressful period.
Pregnancy/Maternity Reflexology
During pregnancy it helps to balance hormones and ease anxiety symptoms. It can help with morning sickness, digestive problems, constipation, heartburn, and general aches and pains. It can sometimes help bring on a natural labour in babies reluctant to enter the world. It should only work when baby is ready and not before.
Healthcare Insurance
Reflexology expenses can be claimed with certain plans with Aviva, VHI, Laya Healthcare, Irish Life Health, & Glo Health (please check your plan first).