paws b | A Primary School Mindfulness Curriculum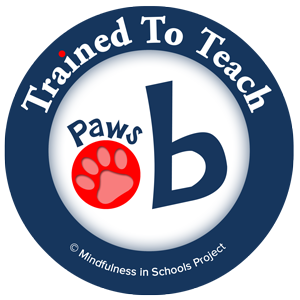 paws b stands for ''Pause, Breathe and Be''. Introducing the life skill of Mindfulness to 7-11 year old children as a series of 6 engaging and practical classroom lessons.
Course Overview
What is paws b?
paws b introduces mindfulness to children 7 to 12 years and is delivered in the classroom. The course develops:
Skills for greater happiness and well-being.
Strategies for relaxing and finding peace and calm.
Healthy coping strategies for stress, anxiety and every day worries.
Better focus - supporting learning, behaviour, performance and decision making.
Improved relationships with peers, teachers and family.
Understanding of one's own mind and what makes for a happy, healthy person.
Each lesson brings to life a different theme of mindfulness; pupils learn simple practices and techniques that they can use in their everyday lives. By training our attention to be in the present moment we develop the ability to calm the mind, improve focus, manage stress and to step back from negative thoughts. The benefits to the child and to the classroom can be striking.
Why mindfulness in primary education?
The need to teach healthy coping strategies in early education has never been more urgent. By teaching children at a young age we are helping to develop invaluable skills for life. This programme equips children with a toolbox of skills from an early age that they can take with them and use as they develop through their lives. It supports, in a highly practical way, the child's emotional development; learning to recognise and regulate one's emotions - vital to learning and personal well-being.
Primary schools can often be busy, noisy and overwhelming places for young minds. It is important that we provide the opportunity for children to pause, breathe and be with themselves. Our personal well-being is central to our happiness, learning and future success - a key ingredient in the education of a whole-child. We find pupils enjoy that time and space, taking to the practices enthusiastically. Fortunately, young children are natural explorers who haven't yet forgotten how to be mindful - this makes it a wonderful age to offer them the experience of mindfulness.
In The Media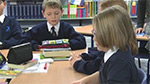 Background
The curriculum has been created by classroom teachers and committed mindfulness practitioners in conjunction with the Centre for Mindfulness Research and Practice at Bangor University. Developed with school children at Colwyn Bay primary school in North Wales since 2010, it has now been piloted in a range of schools in the UK, Ireland and internationally.
I am a Certified paws b Teacher, experienced in delivering the programme in the classroom and I have been practicing mindfulness myself many years. I am truly passionate about equipping young people with the skills they can learn to lead a happier and more fulfilling life.
Overview of Lessons
The 6 lessons teach a different theme each week, building an understanding of the mind while developing skills through practice. Pupils learn simple & effective mindfulness exercises they can begin using straight away. A short Home Practice is given after each session to encourage pupils to bring the benefits of mindfulness into their everyday lives.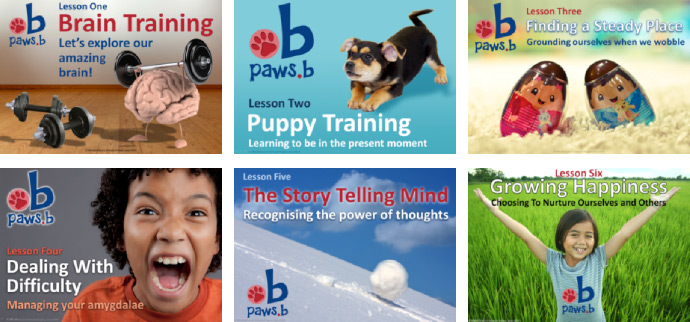 What Children Say
Here is what some of the children have said about paws b
"Paws b helps me to stop and notice how I am feeling, then I can do my breathing exercises and it helps me to calm down before I get angry"
"A great way to relax and focus on the here and now. It helps me stop worrying and getting caught up in stories in my mind"
"Helps when my mind is wandering. Helps me calm down when arguing with my brother."
"When I find it hard to sleep because my mind is busy thinking it helps me to focus on my breath and body, then I can go"
It's good to compare my mind to a puppy that wanders off, I see my mind wander and I bring it back. Finger breathing helped me concentrate during school tests"
"I enjoyed stopping for a while and having that time to myself. Mindfulness helps clear my mind and stops it jumping about."
For more details phone Pauline 086 3784747